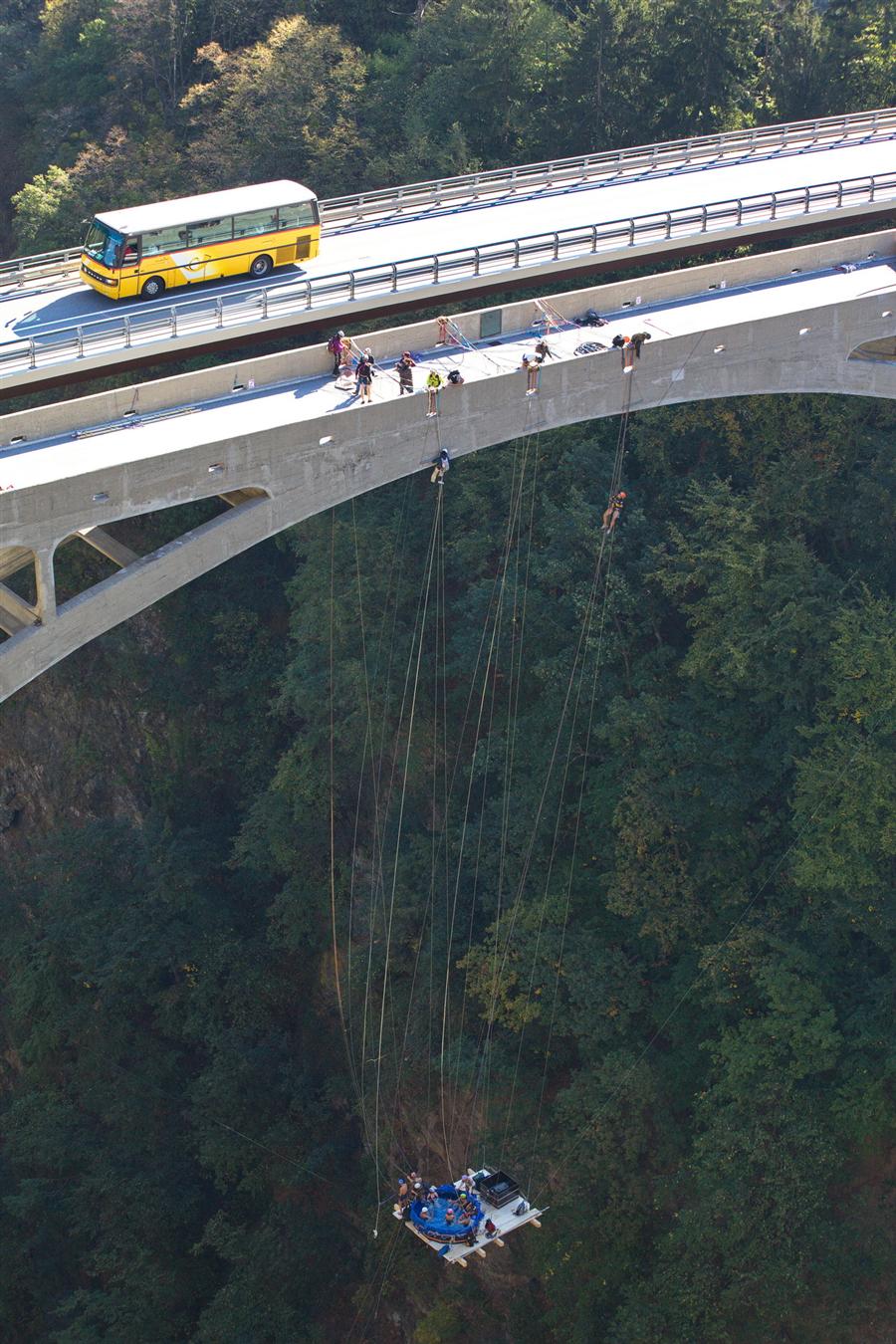 en français
JC's and Cat's return from their trip to South America, was just what we needed to initiate this dream project, namely to suspend a jaccuzzi from a bridge. The bridge had our name written all over it, as it was
the highest in Europe at the time of its construction (1933-1934) with 600 ft of void.
We then needed a group of friends that would be ready to take up the challenge. Out of 25 e-mails we got 25 positive answer all more motivated then the other. With this number it was all said: the size of the jaccuzzi (8 palettes), which with its occupants and the structure itself was going to weigh more than 6 tons; the choice of the cable and the dimensions of the logs as well as their spread out, in order to have the right safety factor on all elements. The platform that we had built for the
spinning jaccuzzi
filled all the criteria and could be recycled.
The length of the cables was absolutely critical, because the water does not forgive the slightest error, as it always flows to the lowest point, increasing the error and making the system unstable. The next challenge was to find a way to make the rappelling (abseiling) and climbing up the rope as easy as possible and absolutely safe, with at all moments two independent safety lines, well protected from the friction on the concrete bridge.
As the month of September was exceptionally sunny, we had great conditions to build and test all the parts, so that on the d day everything could run smoothly with no time lost and guaranteeing the safety of every one. To ensure that all participants be well accustomed in large rappels and rope climbing techniques, 3 training evenings were organized. During the first one we optimized the gear and climbing technique, staying close to the ground. The two following trainings were off the Fenil bridge and the Gueuroz bridge, where we rappelled and climbed back up the rope without reaching the ground.
October 1st, JC's birthday, was the big day, meeting everybody at 4:30am on top of the Gueuroz bridge. Several teams had different task. Some were pre-heating the water on top of the bridge using the 3 gas burners we had used for the
jaccuzzi on top of Mont Banc
); others lowered all the parts necessary to built the platform 130 feet below the bridge; others still were hanging low down and assembling the platform and setting up the hot tub with its gas burner to keep the water at 100°F; while others prepared the rappelling lines for all participants; in short, everybody helped so that 4.5 hours later the first person could jump in the water with a breath taking view. Six hours later the last person came out of the water and at 6:00 pm everything was back on the trailers to get back to Lausanne where we enjoyed a fantastic raclette at Jan's place.
(press info)