Warning: The Mont-Blanc ascent takes place on glaciers and cannot be undertaken without the appropriate equipment and experience. For more information, see the route
After over six years of evolution, the concept of "jaccuzzi events" has led to the realization of a dream. After increasing the size to host more than 70 people for a concerto on the shore of Lake Geneva, after winter jaccuzzi events that became progressively crazier , after successes at higher and higher altitudes, we wondered if a jaccuzzi on top of the Alps would one day be possible.
For us, Jaccuzzi Events are parties that are thrown in unexpected and exceptional places. It is a hobby invented, created and organized by our own means with the help of our friends. Indeed, to organize such an Event in the most remote places, it is not enough to spend evenings designing and construction, the most important is to have lots of friends. As it was out of the question to use the assistance of a helicopter for a leisure, the entire system had to be light enough to be carried by the participants.
During almost one year we searched for means to make the system more reliable and lighter. All components had to be as light as possible still functioning in an oxygen depleted atmosphere, under wind and freezing temperatures. We soon realized that a Jaccuzzi at the top of Mont-Blanc would be just as much a social challenge than technological.
We had to find amongst our friends enough people that could climb Mont-Blanc by night, with a backpack of more than 45 lb and stay at the summit during several hours before descending. Additionally, since the weather had to be perfect, all needed to be able to leave with very short notice, possibly during the week. After four falls alerts, the long awaited weather window finally came, with no clouds and minimum wind...
3.00 pm, Aiguille du Midi cable car parking lot in Chamonix: distribution of the gear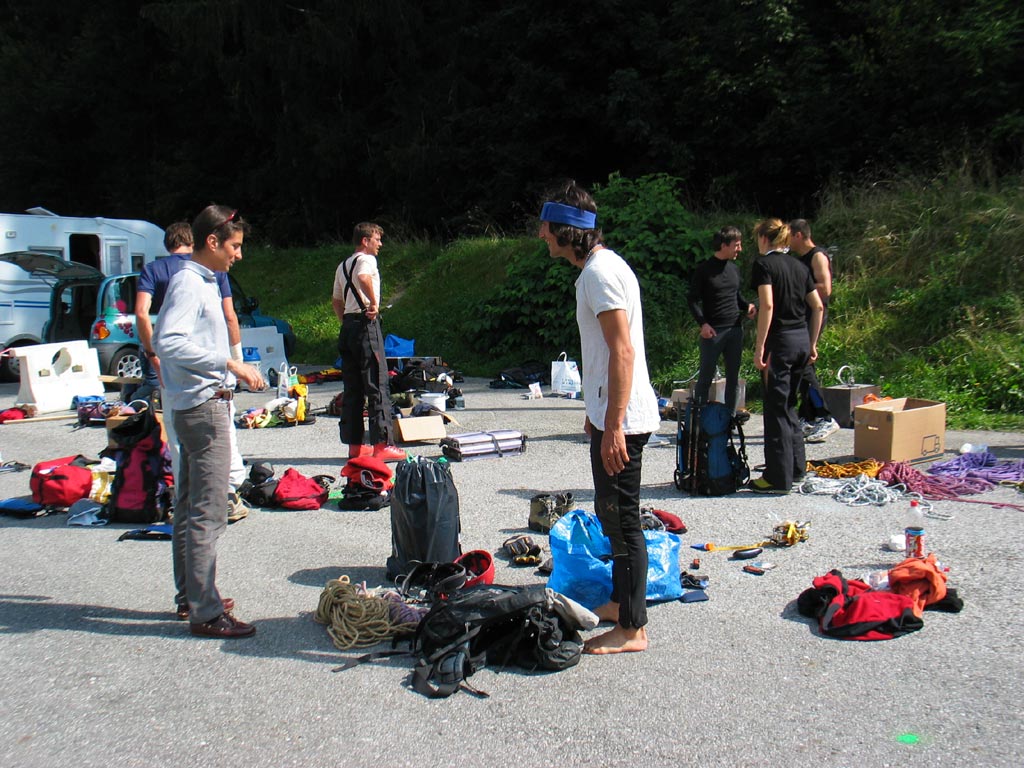 3:30 pm Weighing of the gear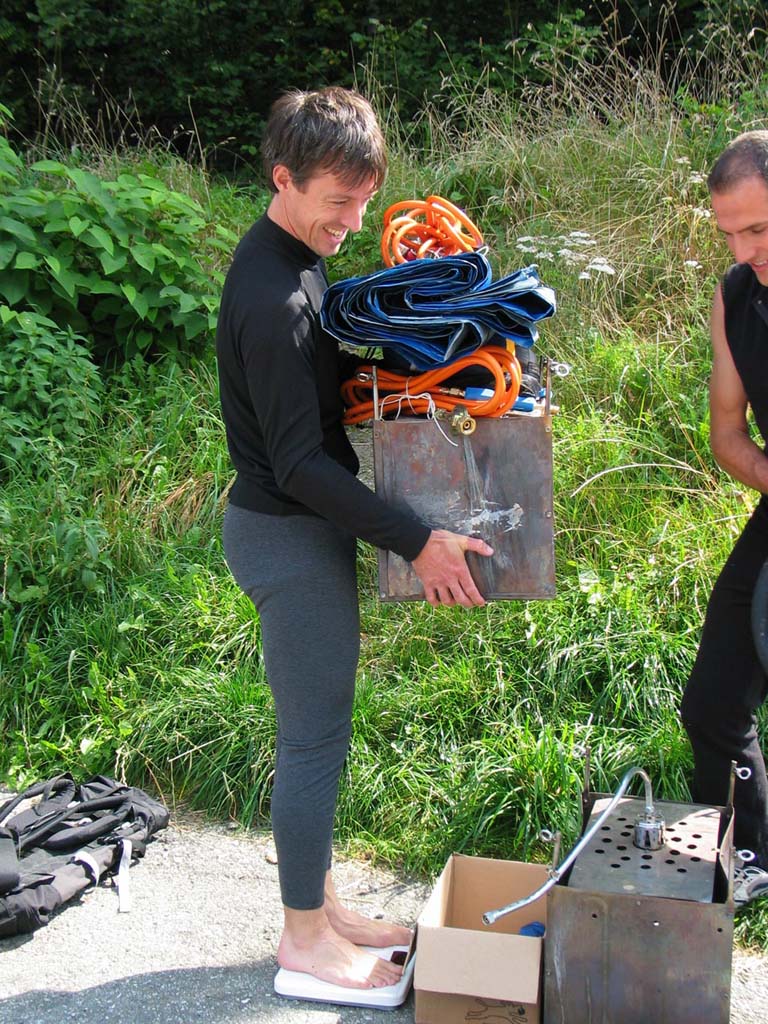 4.00 p.m departure of cable car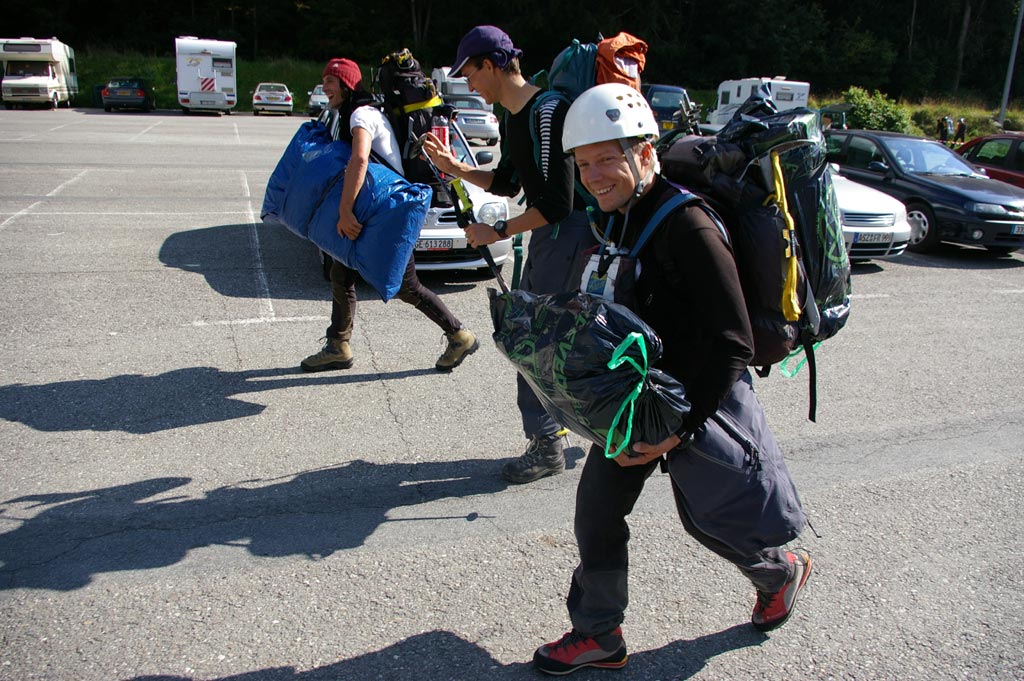 5.00 to 10.00 pm… A few hours rest at the Aiguille du Midi before the adventure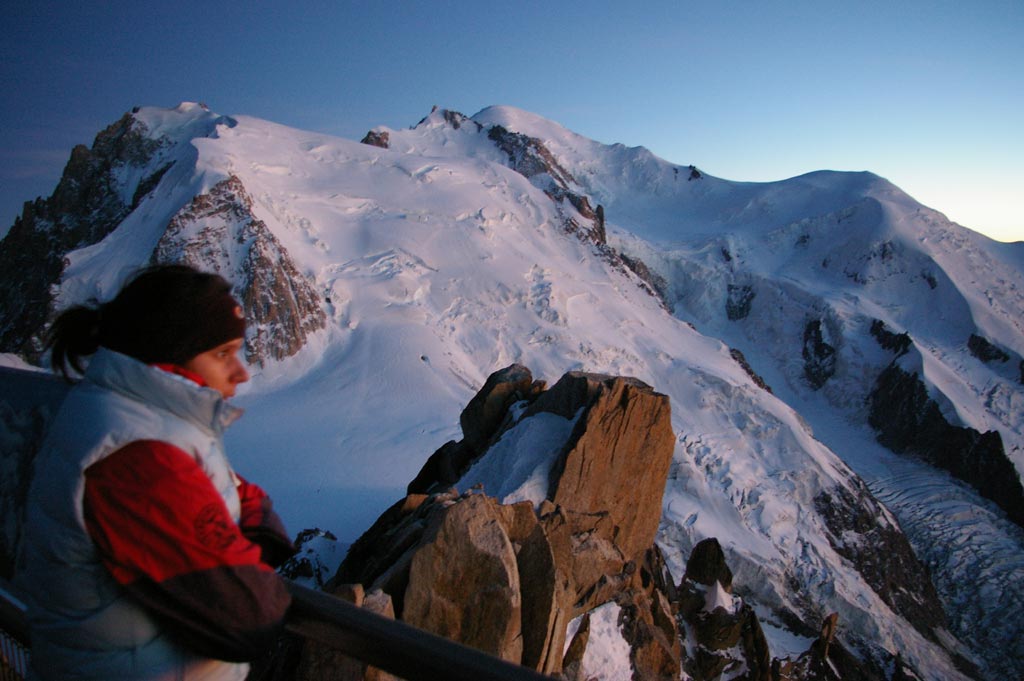 10.15 pm. Departure for Mont-Blanc through the Three Monts route.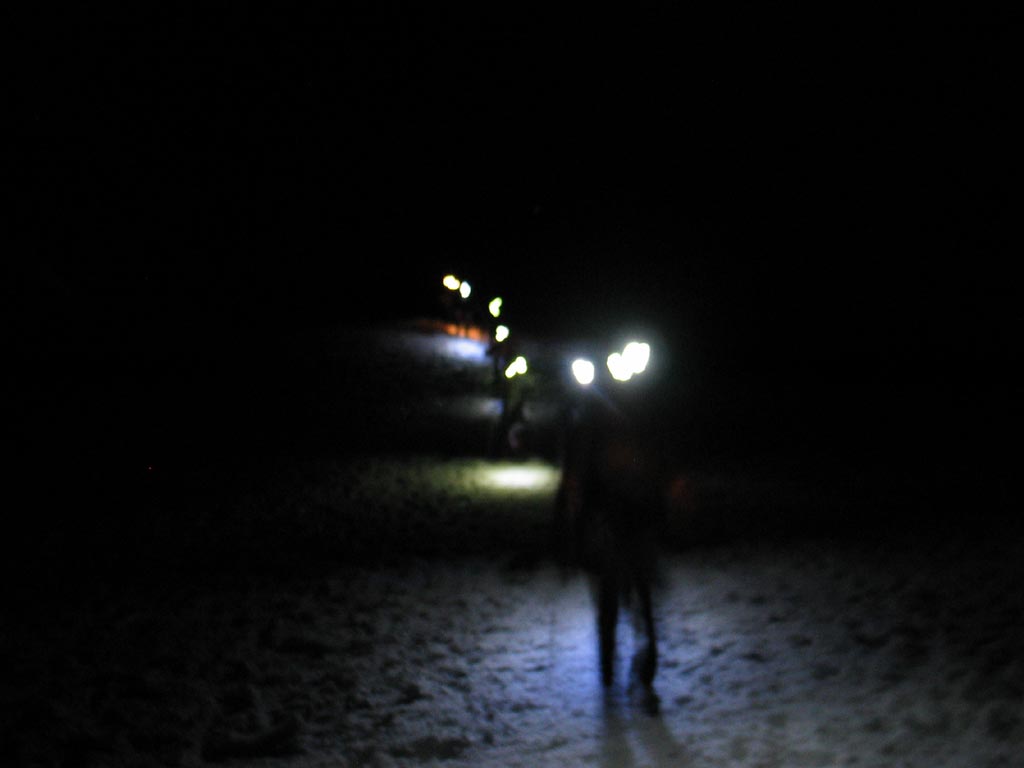 Midnight: Technical passage at the rimaye of the Tacul.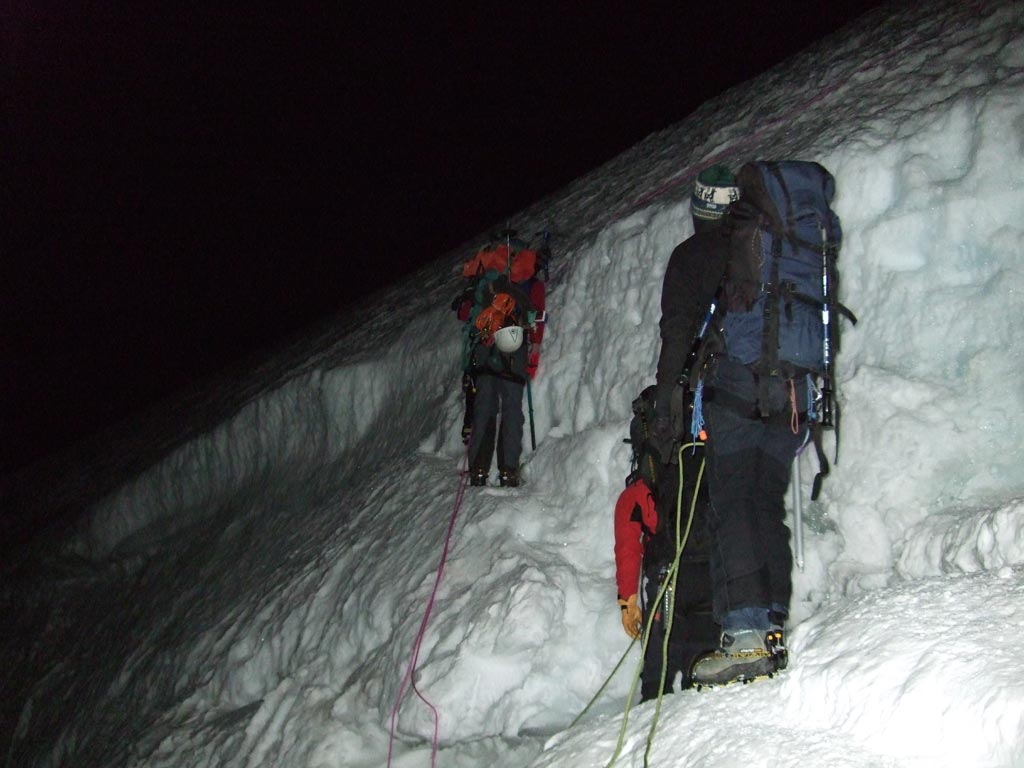 5.00 am: arriving at the summit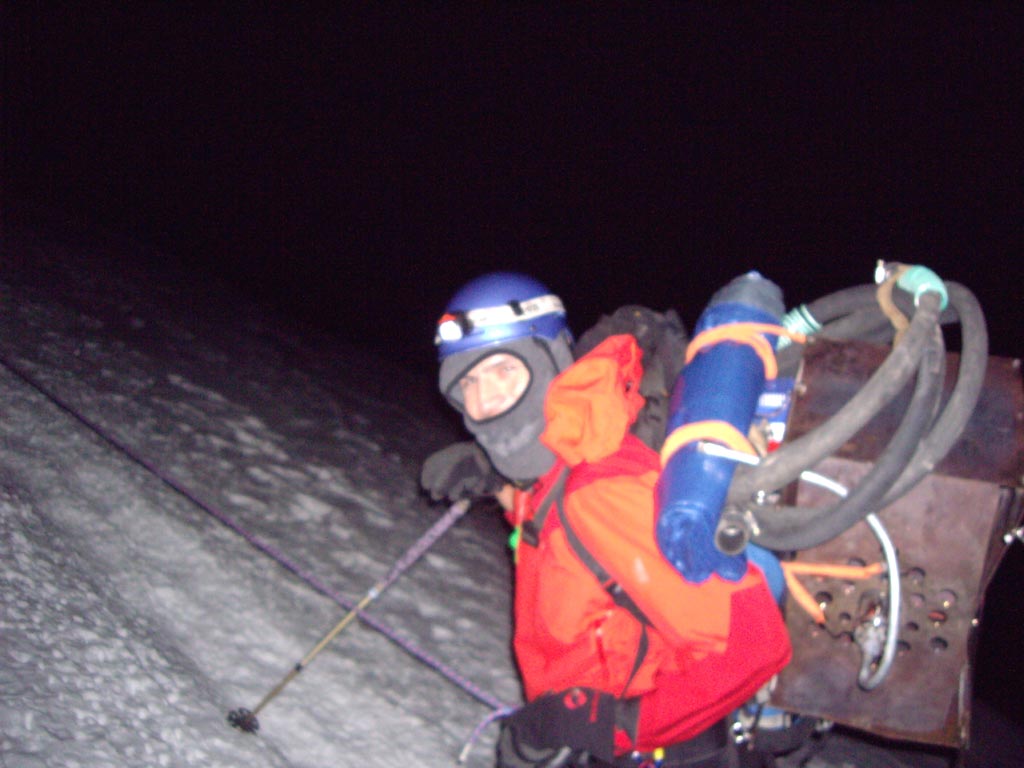 6.45 am: starting to heat the jaccuzzi


7.15 am: the sun starts finally to shine!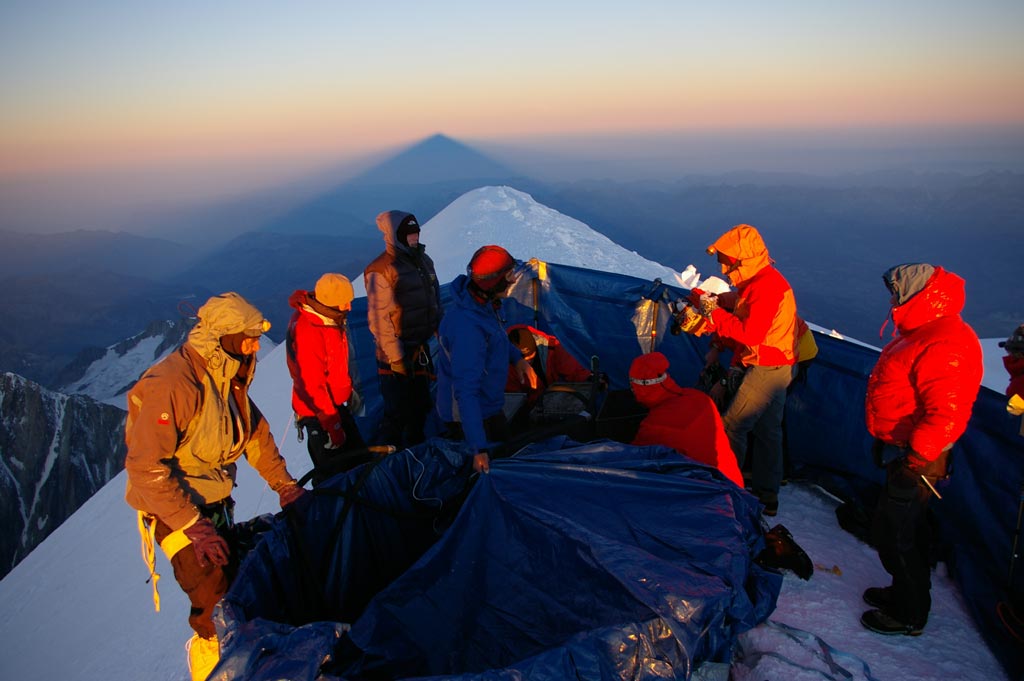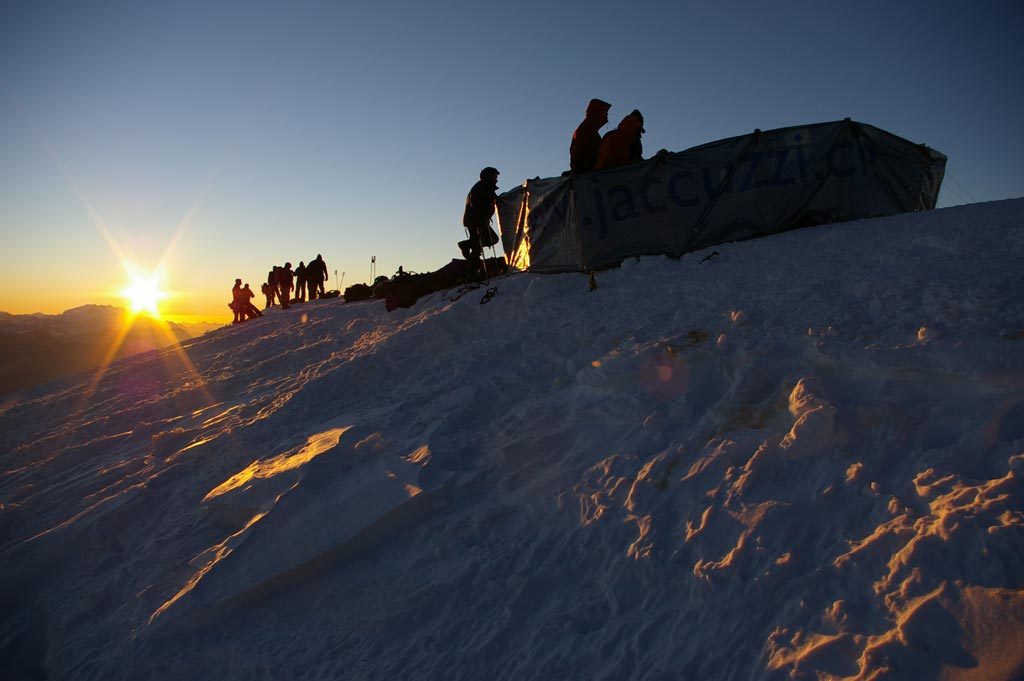 We make a chain to fill the tub with clean snow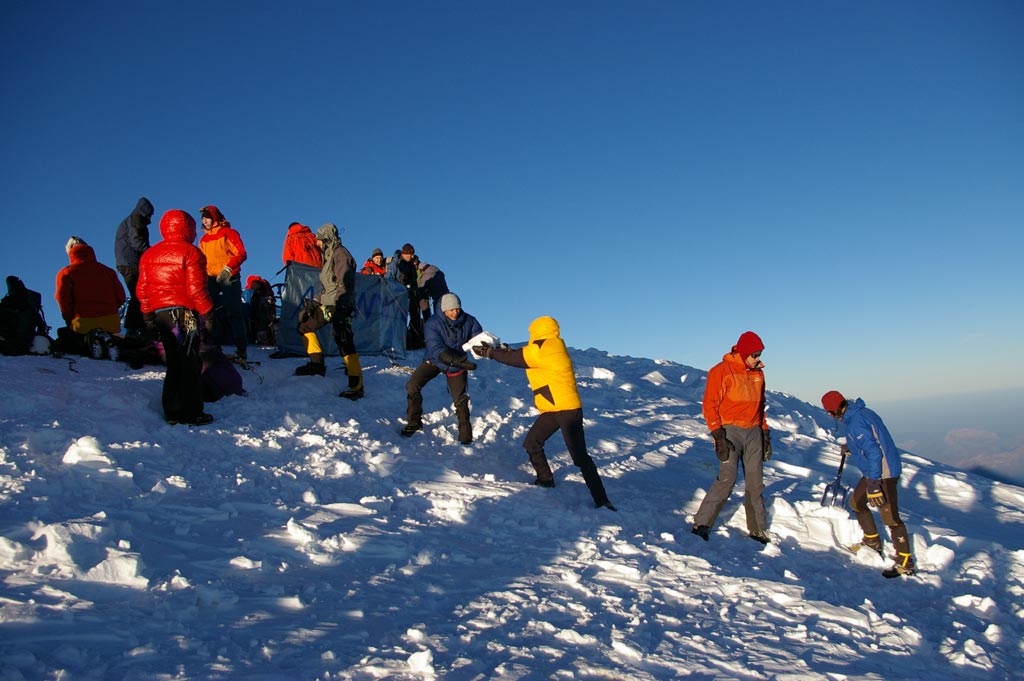 With 75 kW heating power the jaccuzzi will soon be ready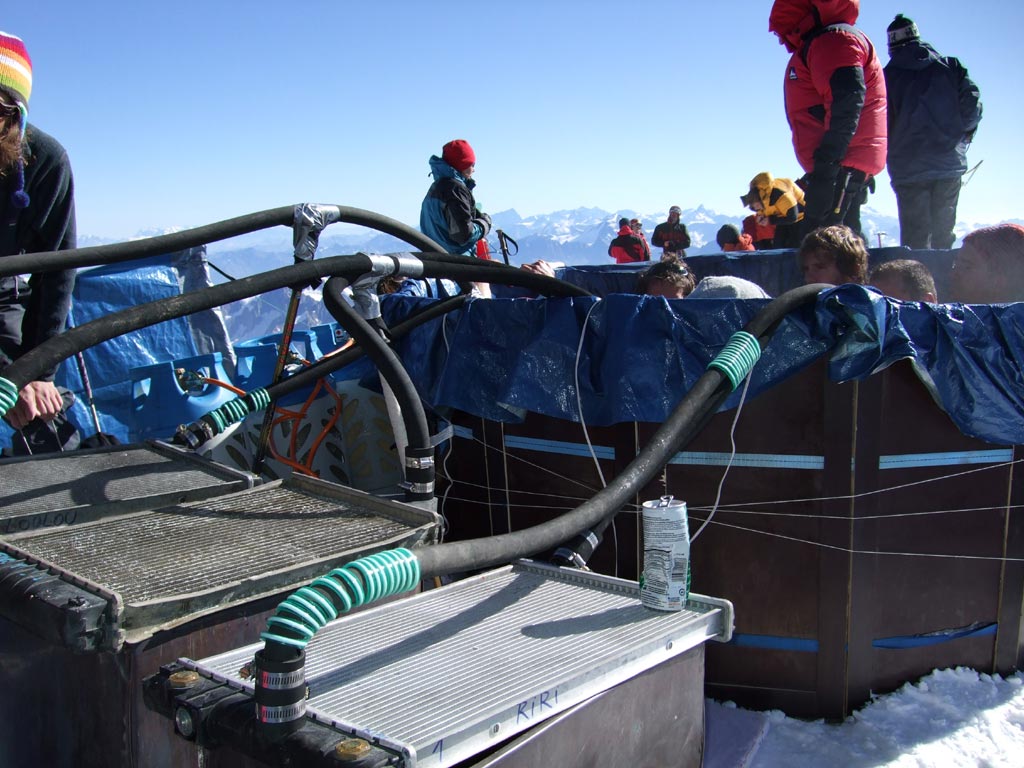 9.00 am: the water is at 100°F the party can begin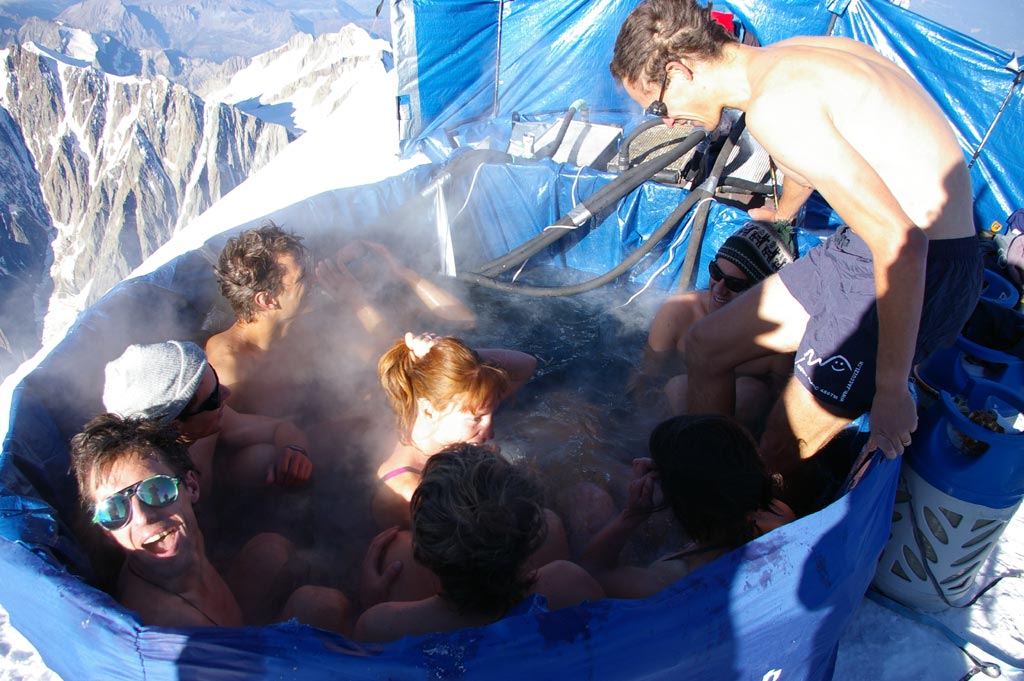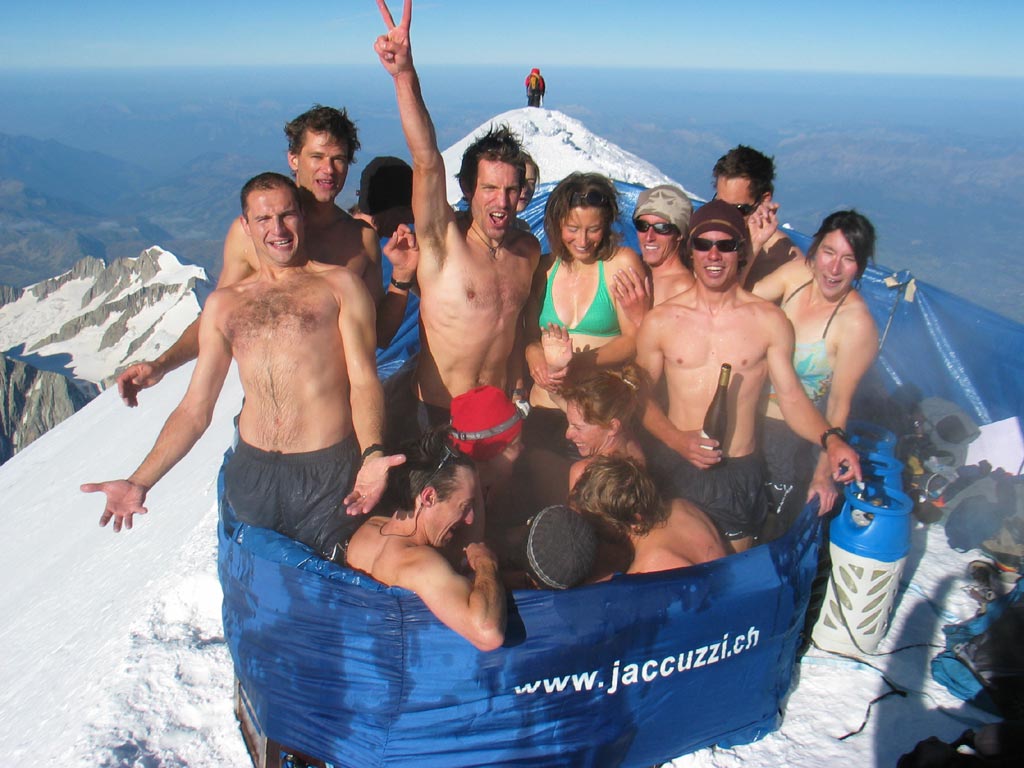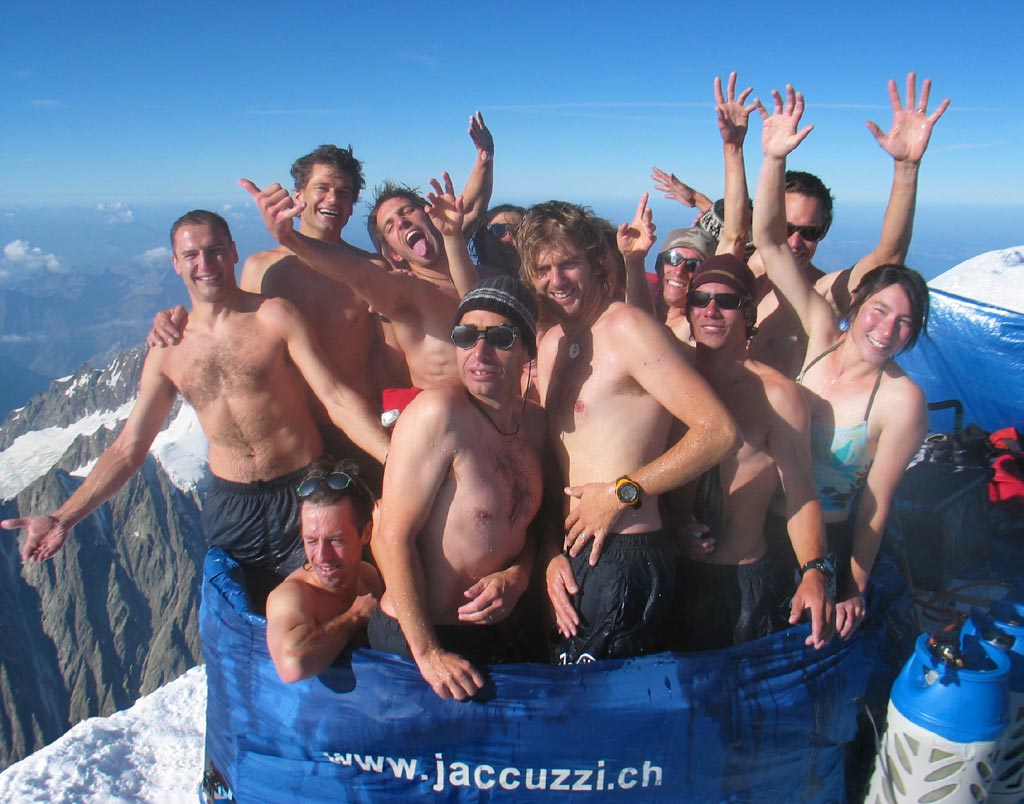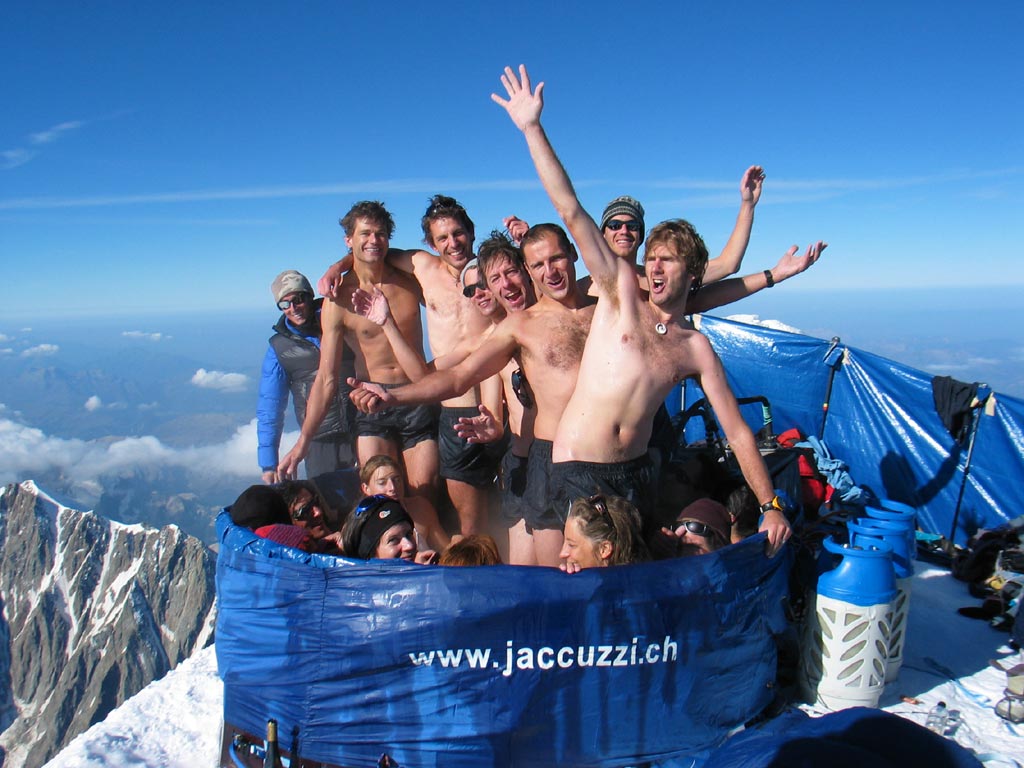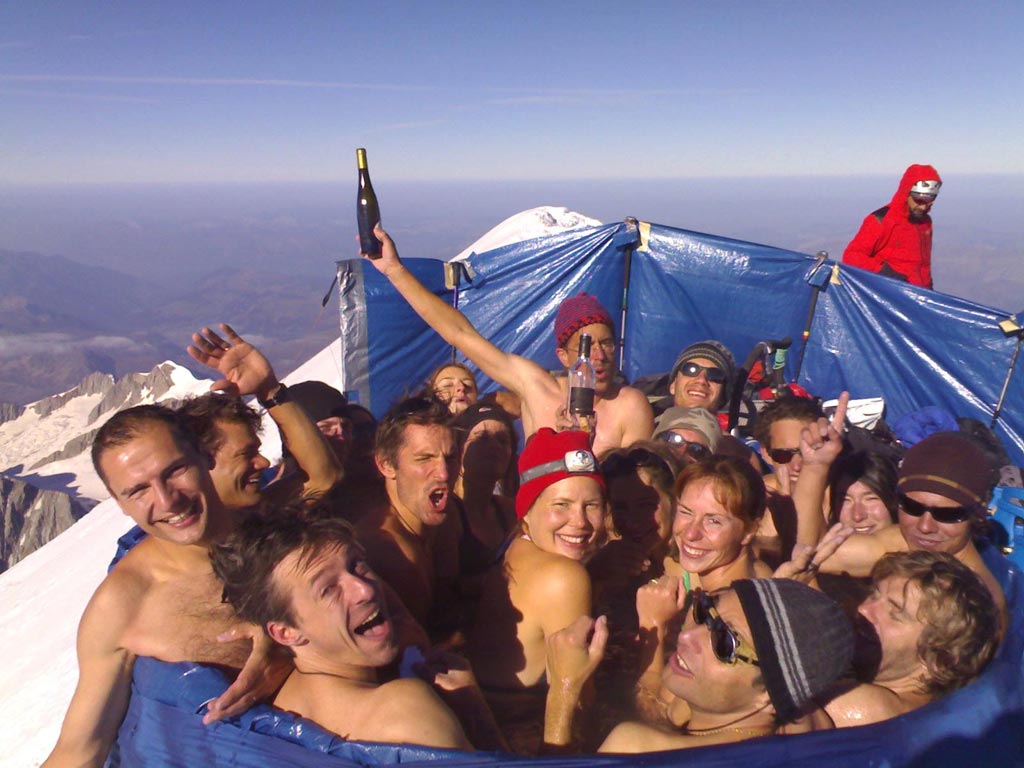 Cudgelling together, everybody found a place to bade. There was just enough space for the 20 of us.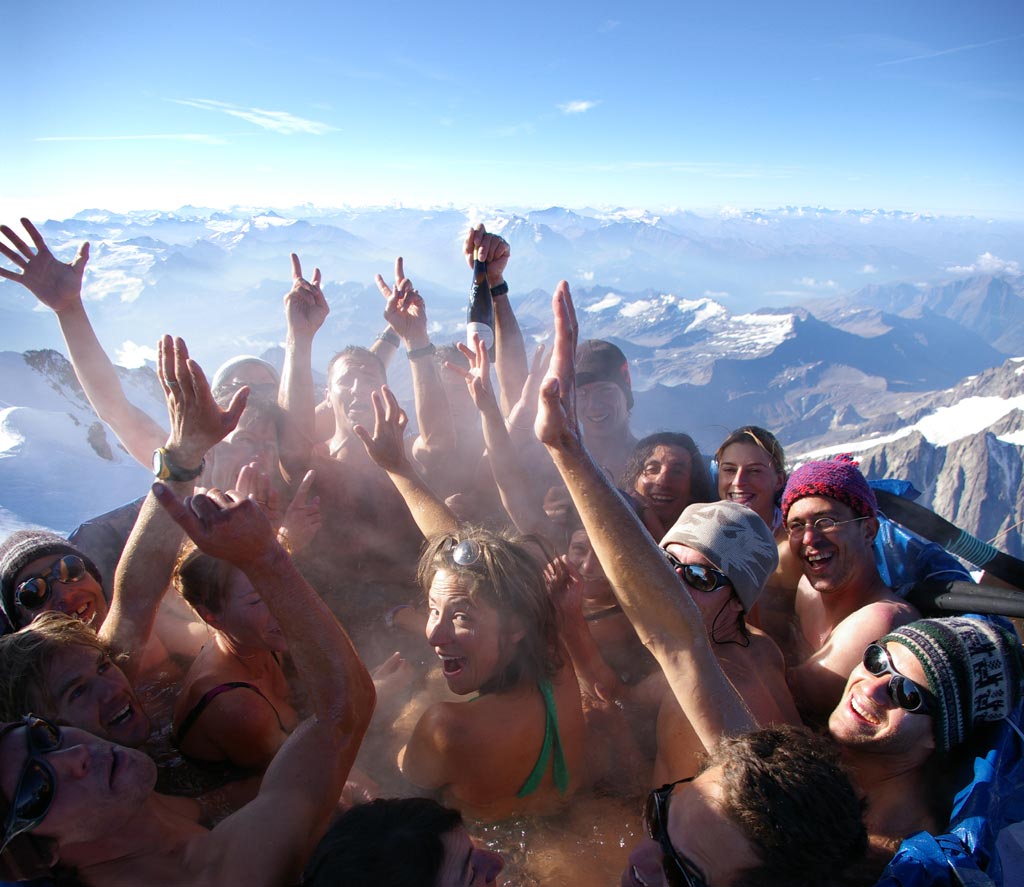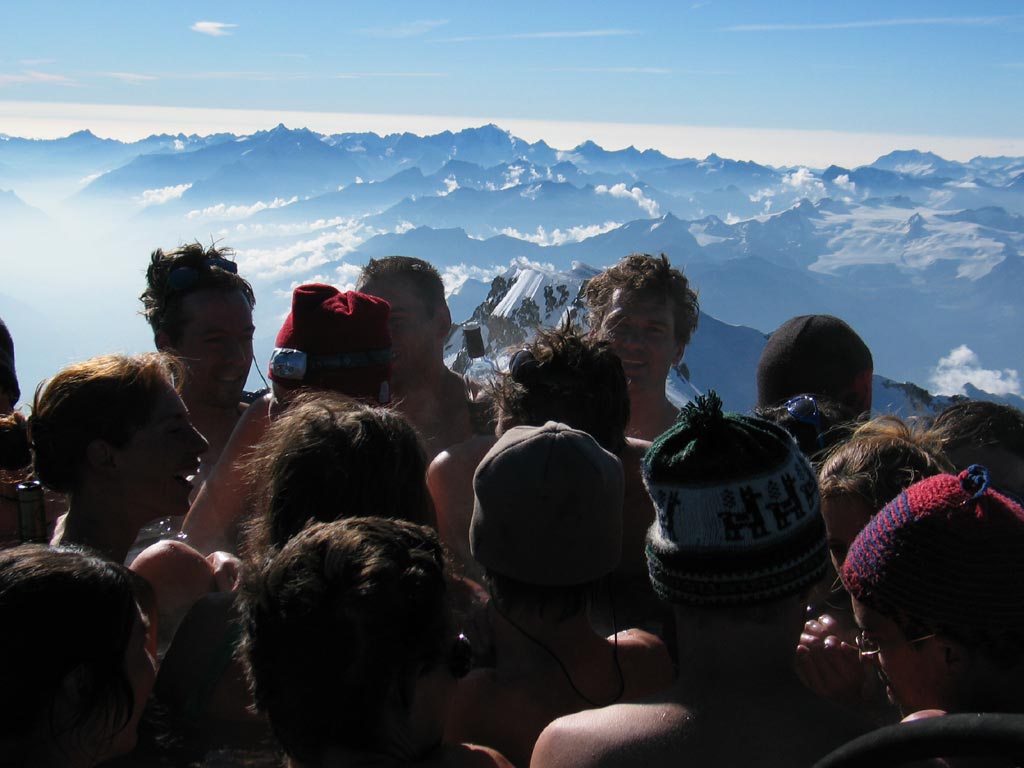 All nice things have aslo to come to an end… It is time to start our long decent through the Dôme du Goûter route.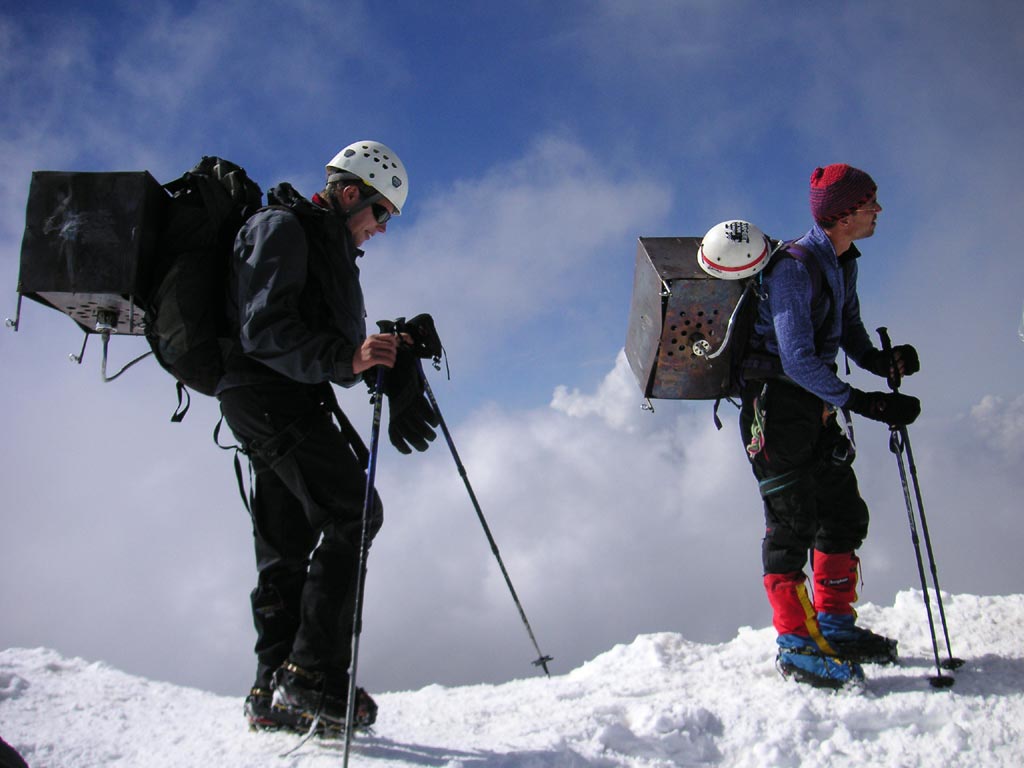 Despite the heavy bags and the sleepless night, everybody kept smiling till the end !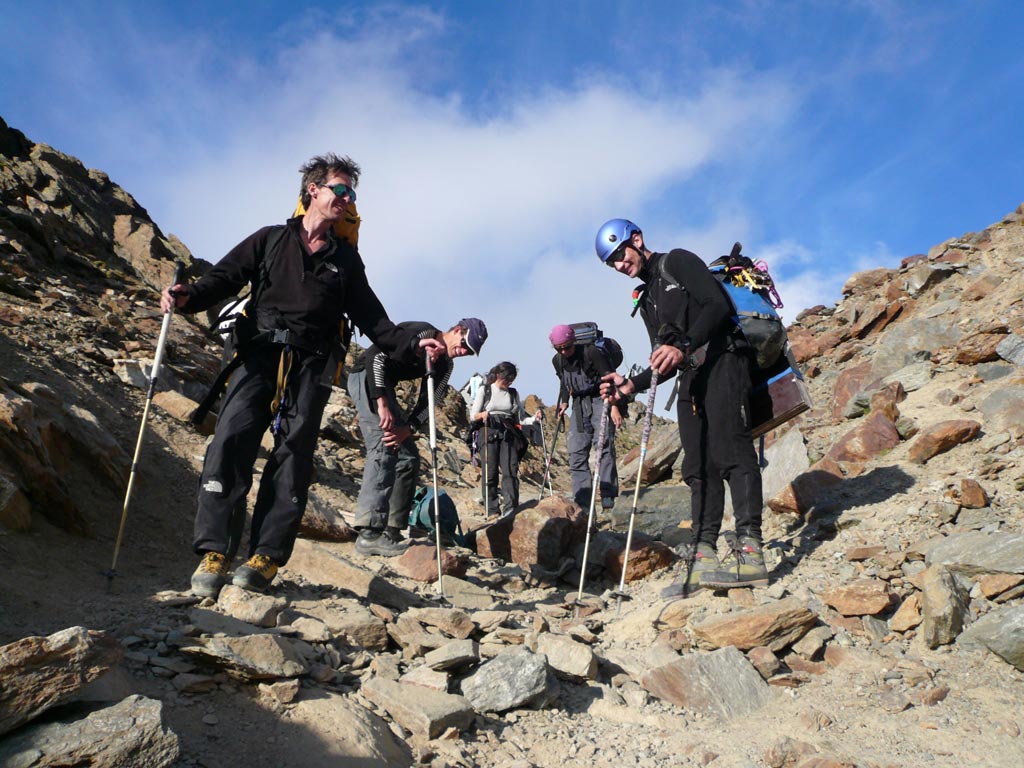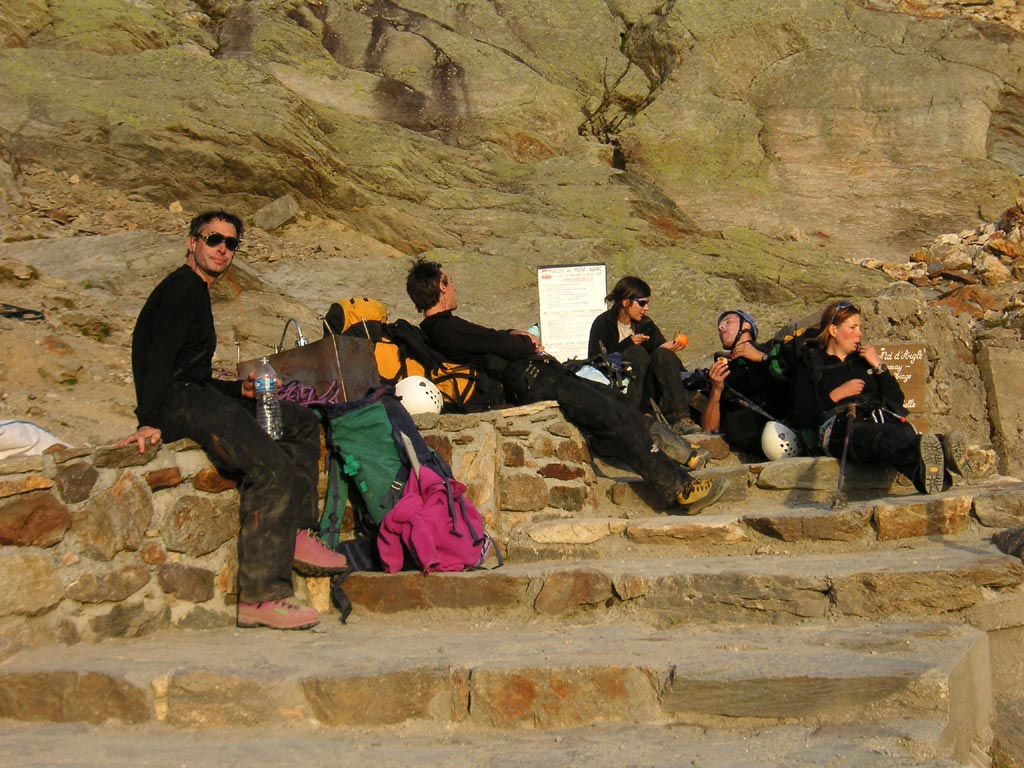 We would like to thank all the people that have participated and allowed this dream to come true.


Remark: We realize that our Event, could disturb certain people, especially those who climbed Mont-Blanc that day and were hoping to be alone on a virgin summit. We apologise sincerely. Regarding the pollution level, note that a jaccuzzi for 20 people heated from snow, is equivalent in fuel consumption to less than 10 minutes helicopter flight with 4 people. In our opinion there will certainly be far less often 20 peole ready to carry 45+ lb to the summit of Mont-Blanc (and back) than helicopers ready to take some tourists for a short ride over this fabulous mountain…

Finaly, a great hello to the italian group we already crossed on top of the previous mountain-jaccuzzi and that where on top of Mont-Blanc by chance the same day !!
A few links :